Zoobles!
is a popular miniature figure toyline first released in 2010. Created by Spin Master, Zoobles! uses the "pop out" principles of it's predecessor Bakugan, while maintaining a mostly female fanbase. Suprisingly, within only its first two years, Zoobles! has been reproduced as an anime and a video game titled
Zoobles! Spring to Life
.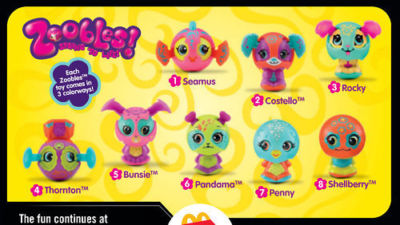 In 2011 and 2012, Zoobles! were featured as McDonald's Happy Meal Toys in promotion of the actual toyline. The former sold alongside Batman: The Brave and the Bold toys, the latter sold with Pokémon toys. The 2011 line featured Zoobles! characters Seamus, Costello, Rocky, Thorton, Bunsie, Pandama, Penny, and Shellberry. The 2012 line featured Cadet, Clappers, Lulu, Wylee, Archer, and Juniper. Both lines however did not feature the staple "pop out" feature of the actual toyline.
The commercial for the 2012 Zoobles! line featured the Funky Farm characters and told the story of DeDe the Dino. The ad ended with the Dodo discovering the Lulu Zooble toy and enjoys it's features.
Six are featured starting June 15th, 2012:
01.) Cadet -- Whale 02.) Clappers -- Seal 03.) Lulu -- Ladybug 04.) Wylee -- Bird 05.) Archer -- Giraffe 06.) Juniper -- Jellyfish