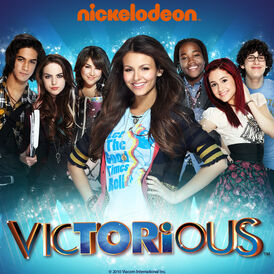 Vict​orious was a Nickelodeon sitcom, debuting in 2010. The show released DVDs, two soundtracks, and gained a Kids Choice Award in 2012 and 2013 for Favorite TV Show.
In April 2012, McDonald's made a collection of eight Happy Meal Toys inspired by the show for girls. The toys made to promote the show included a Make It Shine Compact Mirror, a Fashion Hair Barrette, a Sweet Sounds Necklace, Friendship Fashion Rings, a Microphone Styling Brush, a Rockin' Music Player, Friendship Fashion Bracelets, and a Totally Tori Tote Bag. Each toy contained a Victorious logo and/or a photo featuring cast members of the show.
Commercials for the toys feature the newly created farm characters. Deanna the Dinosaur is seen dancing and singing with the Microphone Styling Brush, while Ant was seen bouncing from the force of Deanna's jumps. A majority of the commercials have been seen on Victorious' home channel, Nickelodeon.