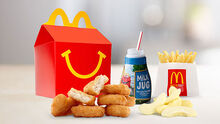 The mighty kids meal. Is a variant to the happy meal. It's designed for preteens who are hungry but not hungry enough to eat the full menu. It had a choice of cheeseburger,chicken nuggets and hamburger. The side choices are apple slices and low fat Strawberry yougurt. The drink choices are chocolate milk,plain milk and minute made apple juice. It started in 2001 as a rival to Burger King's big kids menu.
Ad blocker interference detected!
Wikia is a free-to-use site that makes money from advertising. We have a modified experience for viewers using ad blockers

Wikia is not accessible if you've made further modifications. Remove the custom ad blocker rule(s) and the page will load as expected.