McKroket

The McKroket
Type
Burger
Ingredients
Bun, Kroket, Mustard Sauce
Markets sold
The Netherlands, Belgium
The McKroket is a burger, available in The Netherlands and Belgium. The McKroket contains a kroket and a special mustard sauce.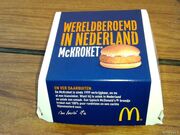 Nutrition value
Energy: 340.0 kcal
Proteins: 11.0 g
Fat: 7.0 g
Salt: 2.3 g
Carbon hydrates: 57.0 g
Saturated fat acids: 3.0 g
Sugar: 8.0 g
Ad blocker interference detected!
Wikia is a free-to-use site that makes money from advertising. We have a modified experience for viewers using ad blockers

Wikia is not accessible if you've made further modifications. Remove the custom ad blocker rule(s) and the page will load as expected.