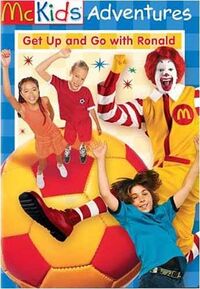 McKids Adventures
was a short lived line of DVDs released in 2006, featuring
Ronald McDonald
and the
McKids Children
. Only two were published and they are
Get Up and Go with Ronald
and
Treasure Hunt with Ronald
.
Get Up and Go with Ronald
In this DVD, Ronald and the kids go outside and play with their bicycles, scooters, and skateboards. They also warm-up and play soccer and fly kites.
The DVD starts with Ronald McDonald showing the kids his skateboard, which he mistakens for a unicycle. The kids point out his mistake and Ronald then brings the big wheel labeled "Get Up and Go" so the activity of the day is chosen. Ronald picks Jamal to spin the wheel and it lands on wheels. All the kids pick their favorite rides with wheels except for one girl named Kim, who is unsure if she is good enough at it.
Treasure Hunt with Ronald
Ad blocker interference detected!
Wikia is a free-to-use site that makes money from advertising. We have a modified experience for viewers using ad blockers

Wikia is not accessible if you've made further modifications. Remove the custom ad blocker rule(s) and the page will load as expected.