Grimace
Talk

0
248pages on
this wiki
Grimace

The iconic (good) Grimace.
Vital Information
Species:
Uncertain
Hair Color:
Purple, all over body
Character
description:
large anthromphic with short arms and legs; started out as an "evil" character who used to steal milkshakes, before being changed to a "good" one; favorite with the kids
Character information
Appeared in:
Has appeared in McDonald's TV commercial/print ads since 1971
Grimace is a character featured in McDonaldland commercials. He is a large, purple anthropomorphic being of indeterminate species with short arms and legs. He is known for his slow-witted demeanor. His most common expression is the word "duh". He had been voiced by Patti Saunders (1971 - 84), Frank Welker and, sometimes, Larry Moran in the commercials, and Kevin Michael Richardson in the VHS series "The Wacky World of Ronald McDonald.
Origins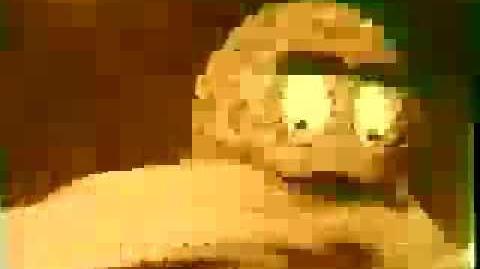 Originally, Grimace was the "Evil Grimace", with two pairs of arms with which to steal milkshakes. After that first campaign, the character was revised to be one of the "good guys", and his number of arms was reduced by two.
These commercials and merchandise generally portray him as a well-meaning simpleton, whose clumsy antics provide a comic foil to Ronald McDonald. The character was retained after the streamlining of the characters in the 1980s and was one of the few members to also be retained till the end of the McDonaldland commercials.
Grimace was last seen at Dodger Stadium on July 18th, 2012 vs. the Philadephia Phillies, dancing to Ram Jam's 1977 classic, Black Betty.
Family
As time went on, Grimace's family was seen in commercials and the VHS series "The Wacky World of Ronald McDonald". He has an unnamed mom, an unnamed dad, a grandma named "Winky", a great, great grandma named Jenny Grimace, a possible brother named King Gonga (who rules over all Grimaces).
While many family members have been mentioned, most heavily seen and mentioned is Uncle O'Grimacey who will come one month every year, around St. Patrick's Day in March, to bring Shamrock Shakes.