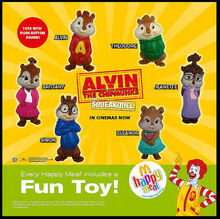 There are 6 McDonalds Alvin and the Chipmunks character toys to collect each with push button sound. The McDonalds promotion is part of a global campaign which coincides with the release of the Alvin and the Chipmunks: The Squeakquel movie.

Each McDonalds Alvin and the Chipmunks toy says a quote from the movie when the topknot on its head is pressed. Included in this set of McDonalds
Happy meal toys are:
Alvin - "Hello gorgeous!"

Theodore - "I'm Theodore! Hahaha!"

Simon - "Ba Da Da Ba Ba! I'm lovin' it!"

Brittany - "We're the Chippettes! Ah-hah!"

Jeanette - "We're sisters! Uh-huh!"

Eleanor - "It's so beautiful!"
Which Ended On Janurary 21st, 2010
Ad blocker interference detected!
Wikia is a free-to-use site that makes money from advertising. We have a modified experience for viewers using ad blockers

Wikia is not accessible if you've made further modifications. Remove the custom ad blocker rule(s) and the page will load as expected.